Micronesica is a multidisciplinary, peer review journal encompassing natural science topics from Micronesia and the surrounding Pacific region.
---
We publish scientific research reports, notes, review papers, bibliographies, and book reviews in agriculture, anthropology, biology, chemistry, geology, and related fields on the basis of their originality and their pertinence to region. Micronesica is published by the University of Guam, and since 2013 is an open access journal. 
During its 50-year history, Micronesica has established a reputation as a vital venue and repository for information on the natural sciences in Micronesia. The peer-reviewed articles are of lasting value, documenting flora, fauna, and the natural history of the human populations on islands undergoing rapid changes. There are many "classic" papers, referred to long after publication. Many new species have been described in our pages; new biological records and checklists of species are also regular features. Reports range in approach from wildlife records, to local names of species, experimental studies, and taxonomic monographs. We have published conferences on Micronesian archaeology, pest species in the Pacific Islands, and other topics, and we are now the vehicle for the long-established series Insects of Micronesia, in collaboration with the Bishop Museum, Hawai'i. Micronesica provides a vehicle for authors from outside the region to bring their results back to the region while having them available worldwide.
As an open access journal, all our content is freely available without charge to the user or his/her institution. Users are allowed to read, download, copy, distribute, print, search, or link to the full texts of the articles in this journal without asking prior permission from the publisher or the author; other rights are protected under a Creative Commons license (CC BY-NC-ND). This is in accordance with the BOAI definition of "open access". Currently, all articles from volume 31 (1999) to date are available as PDF downloads from this website. We anticipate adding content prior to volume 31 in the coming months.
---
Ben Stone founded Micronesica in 1964

, and this excerpt from his editorial preface to volume 1 of Micronesica, September 1964 still rings true:
"Micronesica is obviously a regional journal, geographically focused, and next, categorically limited to the sciences of anthropology, botany, and zoology. This design implies a certain specialization, yet it leaves large general areas open as well. There are clearly enough regional specialists in the three fields, judging from the favorable response to our preliminary survey, so that Micronesica will fulfill a need. This is, we believe, adequate justification to proceed. "  

B. C. S. 

Micronesica 1 (1/2): 1964

 
Editorial Board
MICRONESICA
Founded by Benjamin C. Stone in 1964
 

ISSN 0026-279X

 
Editor: G. Curt Fiedler
College of Natural & Applied Sciences, University of Guam UOG Station, Mangilao, Guam 96923, U.S.A.
fax: 1-(671) 734-2788;  e-mail:

[email protected]


 

Assistant Editor: ROSS H. MILLER
Western Pacific Tropical Research Center, University of Guam UOG Station, Mangilao, Guam 96923, U.S.A.
 

Editorial Board:
A. M. KERR, University of Guam Marine Laboratory, University of Guam

C. LOBBAN, College of Natural & Applied Sciences, University of Guam

N. L. EVENHUIS, Dept. Natural Sciences, Bernice P. Bishop Museum, 1525 Bernice St., Honolulu, Hawaii 96817-0916; email:

[email protected]


         Editor for Insects of Micronesia series

T. MARLER, College of Natural & Applied Sciences, University of Guam

L. YUDIN, College of Natural & Applied Sciences, University of Guam
         Local committee chair for Insects of Micronesia series

D. H. RUBINSTEIN, Micronesian Area Research Center, University of Guam

G. J. WILES, Olympia, WA

J. MCCONNELL, College of Natural & Applied Sciences, University of Guam
 
 
Micronesica is a forum for original research in the fields of archaeology, physical and medical anthropology, anthropological linguistics; systematic and ecological botany and zoology, agricultural sciences, marine sciences, and related disciplines concerned primarily with Micronesia and adjacent Pacific islands. Manuscripts for consideration should be sent to Dr. G. Curt Fiedler at the address above, and should follow the most recent guidelines (posted on our web-site). Manuscripts in the Insects of Micronesia series should be sent to Dr. Neal Evenhuis at the address above and the editor for Micronesica. All articles are freely downloadable and protected by a Creative Commons license (CC BY-NC-ND).
---
A Message from the Editor...
Håfa ådai!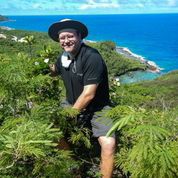 As the current editor for Micronesica, I want to welcome any and all of you to explore our new site, and search for articles of interest in Micronesica. As we close out our 50th year, we are fully investing ourselves in the digital age with a new look while working our goal to get all of Micronesica's content online. With the help of the Micronesian Area Research Center (MARC), much of the basic digitization of old print issues has already begun.
 
I want to encourage scientists working in the region, or with topics of regional relevance, to submit their manuscripts for possible publication in Micronesica. With our continuous, online publication model, you won't have to wait for the next volume to be printed to get your article published. All submissions are vetted by at least two reviewers, and it is possible to include high-resolution color photos, data sets, and even videos with published articles.
 
Our article appearance is also evolving, as we are moving to a letter sized page layout, that gives more room for tables and figures per page, as well as simplifying the process of printing a hard copy for those that wish to do so. I welcome any feedback you might have on the new look of our articles as well as the new website. I look forward to guiding Micronesica into the future, while ensuring it's past is still accessible.
 
Si Yu'us Ma'åse!
 
G. Curt Fiedler
Editor 2014-present
---
Views expressed by the authors are their own and do not necessarily reflect those of the University, the editors or printers.